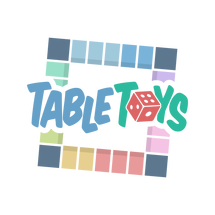 Table Toys
---
In early 2015, Tabletoys started as a small board gaming community in Surabaya, Indonesia. In the past, we have made monthly play day in local cafes while sometime sold some imported board games online. Then, it occurs to us that the board gaming hobby in our country is growing rapidly in recent years. This phenomenon has brought us to open Tabletoys Board Game Store & Library, the first board game library in Surabaya, at the end of 2016. The respond is overwhelming positive, with a lot of people from different backgrounds come to our place to know more about board game because this hobby is relatively new in Indonesia.

In 2018, we think we need something more than just selling and introducing board games to new people. Because of our love to board games, we decide to make our own games. Hopefully, this will make board games more accessible to Indonesians because of its local content. On the other hand, we can also introduce Indonesia to the world with our games. Our first game is Waroong Wars: Second Edition, a game about traditional authentic Indonesian cuisine and Bam-Bam Race, a racing game featuring numerous cute cartoon characters. In the meantime, we will attend Spiele Messe Essen 2018 in Germany. We hope we can spread our joy of board gaming to the worldwide community.
---
Boardgame yang diterbitkan
Korowai adalah sebuah board game yang mengangkat tema suku pedalaman di Papua, yaitu Suku Korowai. Keunikan suku ini sendiri adalah tempat tinggal mereka yang berada di atas pohon. Semakin tinggi pohon, maka semakin tinggi status sosial mereka dan da...
Bam-bam Race adalah boardgame balapan kocak dimana pesertanya berlomba untuk mencapai garis finish dan bisa bertahan disana hingga akhir ronde.
Rp 175,000
BELI
In the card game Waroong Wars, players compete for customers and fame as the owners of traditional food stalls — called waroong — in Indonesia, cooking various Indonesian delicacies such as nasi campur, sate, and nasi goreng.

Each round,...
Rp 210,000
BELI